UTILIZATION OF GRAPHONYX™ MATERIAL MIXED IN EPOXY RESINS TO ACCELERATE THERMAL TREATMENT WITH MICROWAVE
In 2008, a research and development contract was signed with European Aeronautic Defense and Space Company (EADS) wherein they were to conduct tests on the Characterization of Graphonyx's CNO material mixed in Epoxy resins, specifically to determine if the Epoxy resins mixed with Graphonyx™ CNOs could be heated and cured more rapidly by microwave thermal and infrared heat transfer
A preliminary report from the testing conducted by EADS disclosed the following:
The dispersion on the Graphonyx™ CNO material in resin seems unproblematic. Graphonyx™ CNO material modified epoxy resins show an enhanced microwave coupling.
Stated Goal: The incorporation of Graphonyx™ CNO materials in CFPR materials to increase the following properties:
Microwave response of resin systems, to help

Microwave curing process
Microwave de-icing
Fracture toughness of CFPRs
FST properties
Conductivity
Dispersion of Grahonyx™ CNOs in an Epoxy Resin
Graphonyx™ CNO materials were dispersed in epoxy resin using a double centrifugal mixer. Fracture images were taken to study the dispersion and agglomeration size.
It was apparent from the results that the dispersion seems homogeneous throughout the sample. In addition, the agglomerate size appears to be below 1um (one micron), that being a prerequisite for a successful infiltration process (see photograph from main page).
EADS TESTING – 2007-2009
Characterization of Graphonyx™ Material in epoxy resins Influence on interlaminar fracture toughness energy
DIFFUSION OF GRAPHONYX™ IN 30% CURED EPOXY FILM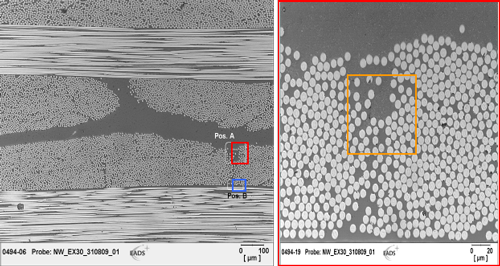 DIFFUSION OF GRAPHONYX™ IN 30% CURED EPOXY FILM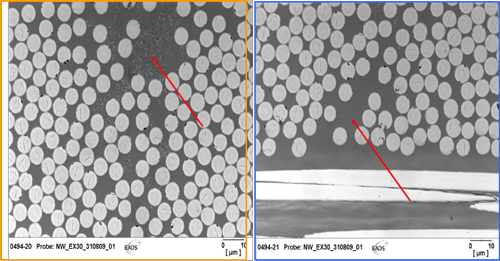 Microwave-Accelerated Irradiation
The microwave behavior was tested in a microwave developed by the Research Institute Karlsruhe together with Voitsch. This oven is characterized by a homogeneous microwave field. Epoxy resin samples with and without Graphonyx's CNO material were heated in this oven. In this experiment the heating rate of the sample was measured over a period of time with a defined energy.
The addition of 1% Graphonyx™ CNO material to epoxy resin enhances the heating rate of the resin. The heating rate progresses linearly up to 180 degrees C (curing temperature for aerospace resins), whereas unmodified resins flatten after 120 degrees C. This is especially important when curing resins at 180 degrees C for two hours, since unmodified resins decrease their ability to couple to microwave radiation upon curing. This loss can thus be decreased by the addition of Graphonyx™ CNO material